Rapala Scatter Rap Lures
Introduction:
New Rapala fishing lures always receive a lot of attention from our customers. The Rapala reputation is renowned around the world and for good reasons. Rapala's long history of making lures that catch fish is full of record holders and when an angler wants reaches into his or her tackle box, chances are they will be pulling out a Rapala.
In 2013 Rapala has introduced one of the most innovative fishing lures we've seen in decades. The Rapala Scatter Rap series of crank baits has a brand new lip design. This lip design, known as the Scatter Lip, creates a an erratic fleeing motion that mimics a fleeing bait fish. Bait fish do not swim in a straight line like a regular crank bait. Bait fish flee in a zig zag, evasive action. The Scatter Lip creates this same type of zig zag evasive action. This action attracts the predators and evokes a predatory response.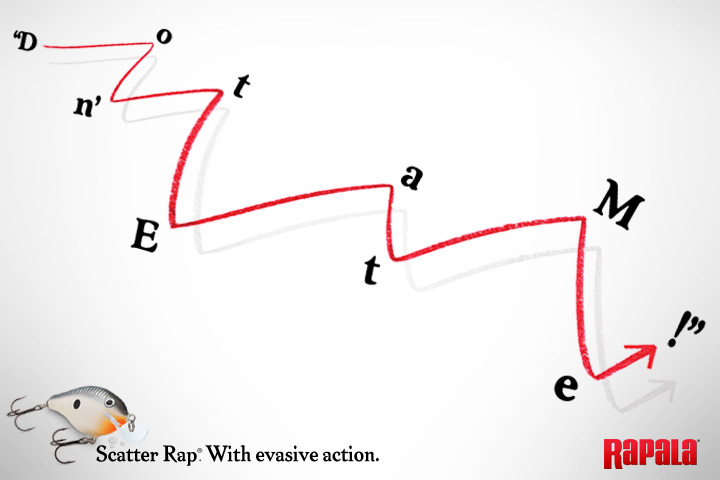 The Details: Scatter Rap Crank
| | |
| --- | --- |
| Type of Lure | Evasive and Erratic Crank Bait |
| Length |  2 inches |
| Weight | 5/16 ounce |
| Swimming Depth | 6-8 feet |
| Hooks |  Two no. 5 hooks |
| Species |  Multi species fishing lure |
| MSRP | $8.99 |
| Price at Jax Cat Tackle | $7.59 each (You save $1.40) |
Impressions:
Like all Rapala lures the Scatter Rap Crank swim great right out of the box with no tuning necessary. True to it's description, this lure doesn't swim in a straight line. The lure appears to bounce out of it's path and the swimming action is incredibly appealing. We used the baby bass color in our trial runs and we fished this lure for about 6 hours. It was a busy 6 hours. The Scatter Rap delivers on catching fish. We caught several large mouth bass and loads of pickeral. We even caught a few perch and we were all amazed that the perch got their lips around the no. 5 hooks.
Lure Action:
The action on the Scatter Rap is a zig zag pattern. This erratic action is very appealing to game fish. I get the sense that strikes happen when the lure zig and zags. It's that instant where the lure appears to be getting away that the predatory fish strike. This is also a unique action. True you can get a similar action on a top water walk the dog lure, but this bait swims 6-8 feet deep and makes that zig zag pattern in the strike zone.
Casting:
At 5/16 ounce the bait is easy to cast. This lure rockets off the  reel. We were impressed with the accuracy we had, too. Going down 6-8 feet in the body of water we fish often means weeds. We were able to consistently hit between weed runs and reel in the bait through these weed gaps. We found many large mouth bass and pickeral hanging out in these beds and they were more than willing to come out and strike this bait.
Conclusion:
Another great Rapala fishing lure with unique action. The Scatter Lip is indeed a cool new way to put fish in your boat. The Scatter Rap Crank is highly recommended by the Jax Cat Tackle Company pro-staff. Good luck and stay safe out on the water!
To order your Scatter Rap Crank, click here:
Scatter Rap
Or see the Scatter Rap Count Down:
Scatter Rap Countdown
To get a glimpse of Rapala's TV ad click here:
Rapala Scatter Rap TV Ad
.
To see the Rapala action video got here:
Rapala.com